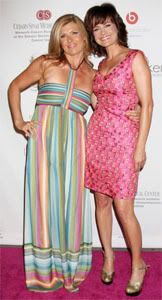 African Children's Choir Teams with Britton, Gugino, et al. for Fundraising Gala, 10/18
On October 18th, Emmy nominee Connie Britton whose accolades include stand-out roles on shows such as Friday Night Lights, 24, The West Wing among others and Carla Gugino who is seen on Entourage, Watchmen, Night at the Museum and more will be hosting the internationally-acclaimed African Children's Choir as they perform at their annual fundraising gala. Joining them performing are some of Broadway's best from shows including Wicked, Lion King, Promises, Promises, In the Heights and Memphis with more to be announced. The Music Director for the event is Mary Mitchell Campbell. As Cy Coleman's protégé and currently the Music Director for Addams Family on Broadway right now, she will be adding her talent to this night. The night will not only showcase performances, but also an auction to help raise funds for The African Children's Choir.
Information for the event is below:
Monday, October 18th
7:00-10:30pm
The Box
189 Chrystie StreetNYC
(Cocktails and h'ordeuvres 7-8pm, show starts at 8pm)
The African Children's Choir is made up of children from the poorest countries of the world whose voices have been heard by world leaders and the top performers the entertainment world and, over the past 26 years have raised millions of dollars to educate and rebuild countries devastated by famine, war and AIDS.
The Choir is comprised of 24 African children, ages seven to eleven. Each child in the Choir has lost one or both parents to poverty, war or AIDS. In their countries, education is not free, so through the efforts of the Choir, the sponsor, Music for Life, is able to educate 6500 children in seven African nations.
The first Choir was formed in 1984. Each year, a new Choir is formed and the children from the previous Choir return to their homelands to attend school. Their education is completely funded by the African Children's Choir. Since its inception, the African Children's Choir has established schools and provided educational scholarships in Uganda, Rwanda, Kenya, Sudan, Nigeria, Ghana and South Africa. They have performed all over the globe, singing for presidents, joining performers such as Annie Lennox, Josh Groban, and Faith Hill. They have appeared on American Idol and Jay Leno.
The concert includes well-loved children's songs, popular gospel tunes and lively spirituals. Through their songs and dances, the Choir brings Africa alive, in all its color and splendor creating a truly unforgettable musical experience.
Sources:
Broadway World
and
The African Children's Choir