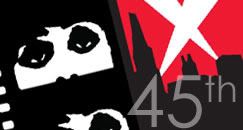 Women in Trouble
will be shown at the
45th Chicago Film Festival
Show Times: Oct 10, 2009 1:45pm; Oct 16, 2009 8:00pm; Oct 17, 2009 7:00pm
The director of the film, Sebastian Gutierrez, is scheduled to attend the last event. I've been told that he is a very nice and pleasant guy. He usually does a Q&A after a screening, so if you plan to go to see the movie, try to get tickes for the 17th!
---
The tickets for this event
NIAF 34th Anniversary Gala
might be a bit pricy, but I bet the food will be excellent! ;)
NIAF will honor Carla with the Foundation's Special Achievement Award in Entertainment!
---
Charity #1
And last but not least, thanks to
waverider56
for giving me notice of this Ebay auction:
Click
The
"Protect The Skin You're In"
T-shirts are part of a campaign to raise awareness about skin cancer and benefit melanoma research at the NYU Cancer Institute. It has raised more than $1 million for the NYU School of Medicine's, since it started in 1996.
T-shirts are available only in
Marc Jacobs stores
(for 35$ btw!).
---
Charity #2
Added 09/26/09
Another charity event Carla is attending:
Acts of Love
What
: Acts of Love is Autism Speaks' annual awards reception celebrating those who have made a difference in the Autism Community. The event raises funds and awareness which allows Autism Speaks to continue its work in finding a cure for autism.
Source
Where
: The Eli & Edythe Broad Stage, Santa Monica City College
When
: October 3rd, 2009