It's the afternoon following opening night of Desire Under the Elms, at Broadway's St. James Theatre, and a day off (following nine successive performances of the 1924 Eugene O'Neill drama) for Carla Gugino, who stars as Abbie Putnam in the revival. "I needed the day off like I've never needed one before," she says. Still the black-haired Gugino takes time to chat in the lobby of a Manhattan hotel, where she's a guest.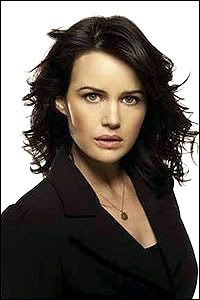 Back in February, New York Times critic Charles Isherwood covered the Goodman Theatre's production of the play, in Chicago, and praised Gugino: "She displays a depth and range of expression that I cannot imagine any other actress achieving with such blazing honesty and wrenching truth. She is simply magnificent." Reviewing the Broadway transfer, Isherwood wrote that Gugino gives "a brave, luminous, ultimately haunting performance."
Says Gugino, "I read very few reviews, but I did read the one in Chicago, because I was told that [Isherwood] had really gotten what we were going for. People have read me quotes from the one today."
Were there particular challenges in playing Abbie? "There were so many. I didn't want to ever soften where she starts, or to do anything to make her more likable. What I found fascinating about the way O'Neill wrote her was she's not the classic femme fatale. She's not duplicitous. This is a woman who's never had a home, never had love, or any kind of real warmth in her life.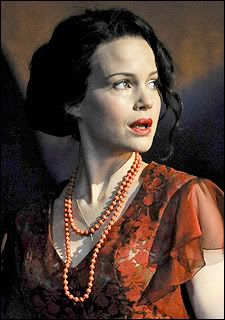 "But when she sees Eben [Pablo Schreiber], everything changes immediately. [Eben's the stepson of Abbie's new, much older husband, Ephraim, played by Brian Dennehy.] When she falls in love with Eben, she'll go to any length to protect that love. That took a lot of exploration."
Describing the Gugino-Schreiber scenes, Isherwood wrote: "Rarely has sexual passion been depicted with such tense, animalistic ferocity on a Broadway stage."
Acting since she was 13, Gugino has several TV credits, and has been a regular on seven series: "Falcon Crest," "The Buccaneers," "Spin City," "Chicago Hope," "Karen Sisco," "Threshold" and "Entourage," in which she appeared in Season Three (as a talent agent), and returns for the upcoming fifth season.
Numerous film credits include "This Boy's Life," the "Spy Kids" trilogy, "Sin City," "Night at the Museum," "American Gangster," "Righteous Kill," "Watchmen," and "Race to Witch Mountain."
Gugino has worked frequently with her significant other, writer-director Sebastian Gutierrez. (She points him out, across the lobby.) "He came in for 24 hours, for the opening."
They've worked together on a "Karen Sisco" episode, and the six films that he's directed: "Judas Kiss," TV's "Mermaid Chronicles Part I: She Creature," "Rise," and an upcoming trilogy, "Women in Trouble," "Elektra Luxx" (the porn-star character she plays in all three) and "Women in Ecstasy" — "which," she says, "is being edited now."
Two other pictures are due for release: In "Our Lady of Victory," she plays a basketball coach at an all girls' high school ("It's based on a true story"), and in "Every Day," she appears opposite Brian Dennehy, Helen Hunt, and Liev Schreiber, "Pablo's brother. I went from Liev to Pablo. They're incredibly talented, wonderful human beings."
This is her third New York-stage appearance, all of which were in revivals of Pulitzer Prize-winning playwrights' dramas. Currently, she's an Outer Critics Circle Award Best Actress nominee for the O'Neill tragedy. She also received an OCC nomination, as Catharine, Off-Broadway in Tennessee Williams' Suddenly, Last Summer, and won a Theatre World Award for her Broadway debut, as Maggie, in Arthur Miller's After the Fall.
Will Gugino only appear in plays by Pulitzer Prize winners? She laughs. "Those are things that I really responded to. With each play, I read a biography of the writer, and that has been very helpful to me.
"Arthur Miller was still alive when I did After the Fall. We got to work with him, which was incredible!" She acknowledges that Maggie was "influenced by Marilyn [Monroe, Mrs. Miller, from 1956 to '60], but I know that Arthur felt that she was a separate character, and I didn't play her as Marilyn. I did a lot of research, used it as a point of departure — and then let it go.
"I feel completely blessed to have gotten to do the work of three of our greatest American playwrights. I'm grateful to [director] Michael Mayer, who gave me a shot to play this extraordinary role [in After the Fall] — having never been on Broadway, never acted on a New York stage. I was so warmly embraced by the theatre community, I knew that I wanted theatre to be a huge part of my career. I want to do something by a new playwright, and I'd love to do a comedy."
Born in Sarasota, FL, Gugino moved with her mother to Paradise, CA, following her parents' divorce. She worked briefly as a teenage model, "but [at 5-foot-4-inches] I was far too short. I came to New York City at 14, but it was far too daunting [to be by herself]. I went back to California. I've been living on my own since I was 16."
Which role, so far, has given her the most satisfaction? "I'm very fortunate, because I've played a lot of roles I've really loved. My character in 'Watchmen' aged from 25 to 67. I loved Maggie, which will always remain one of the most magical, life-changing experiences. And playing Abbie [in Desire Under the Elms] is no doubt one of the hardest things I've ever done — and, therefore, one of the most exhilarating."
Source:
Playbill