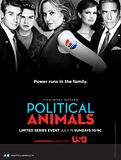 Carla Gugino is pleased to be in the wave of actors giving TV viewers dramatic new ways to meet the press.
With Jeff Daniels and Emily Mortimer among those in "The Newsroom," premiering Sunday (June 24) on HBO, "Spy Kids" and "Sucker Punch" co-star Gugino also is about to play a journalist. Debuting Sunday, July 15, the USA miniseries "Political Animals" casts her as an award-winning reporter especially intrigued by a former first lady turned Secretary of State (Sigourney Weaver).
"We deal with it in a really interesting way," Gugino tells Zap2it of how "Political Animals" portrays news gatherers, particularly given such incidents as President Obama being interrupted during a White House conference Friday (June 15). "There's the character of a younger journalist who is much more of a blogger, and she's really about getting information out fast.
"She doesn't have any kind of classical training in journalistic investigation or what it takes to write a good story ... and yet, one can't deny that you may get a million hits on a story that comes out on a blog, as opposed to 300,000 people reading a newspaper.
"It's a really interesting conversation to be had," notes former "Karen Sisco" star Gugino, who also has made home-screen appearances on FX's "Justified" and Showtime's "Californication" lately. "What is journalism, and as everything shifts and changes, how can you maintain the integrity of the profession?"
In fact, Gugino adds, such a conversation does take place in "Political Animals." She says her character "refers to the fact that a story actually takes time and effort, and if it's done right -- especially in the realm of what our show is about, the political world -- it doesn't just record current events. Hopefully, it also allows people to reflect on them. It's a very interesting time for what a journalist is."
Source:
Zap2it